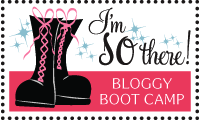 I will definitely do a serious version, because really, there was a ton of valuable information I took away and I really don't want to discount all the hard work that goes into BBC.
However.
I couldn't help but sit there today and think about a few things:
It's a great feeling to hear someone say: "Oh yeah, I follow you on Twitter!!!"
Then it's rather humbling when you realize nobody else in the room freaking knows who you are…
You should definitely look into starting a domain name collecting hobby.
You can apparently take away many lessons from Twilight.
There's no right or wrong, just good and bad.
Something you did in the past can really come back to bite you.
Everyone is friendlier once they've gotten some wine in them.
You should definitely make it to the appetizer table early.  Otherwise, you're left with nuts.
Twitter is perhaps one of the single best things ever created.
The people on Twitter are actually real.  I even walked down the streets of Atlanta with one of them.
Comfortable shoes can still be uncomfortable once you've been walking the streets of Atlanta.
Yes, what they say is true:  Tiffany Romero really is perfect in every way, but especially when she has a microphone.
I had so much fun at BBC, and really recommend attending one if you can.  You'll come away a different blogger.