What:  Fractazmic
Cost:  $6.95
Recommended Ages:  1st – 8th graders, although I had fun playing it, and I'm a 30 year old woman…
What is Fractazmic?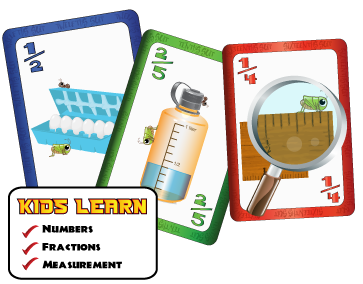 Fractazmic is a card game designed to visually teach children how to convert and add fractions, how fractions and measurement are related, and how fractions can be used in real-world applications.
Each card has a fraction printed in the upper left and lower right corners and a large picture demonstrating the fraction utilizing measurement and real-world uses.
The object of the game is to collect as many hands as possible before someone runs out of cards.  Hands consist of cards in the same suit that equal one.  The game ends when a player is out of cards, and the person with the most hands wins.
Our Thoughts
Babydoll and I enjoyed Fractazmic.  Once you get the hang of it, the game doesn't take long to play and you really do have fun while learning.  Babydoll and I haven't really gotten into fractions formally, but it only took a couple of minutes to explain to her.  She's learned about them through practical application, such as cooking, so it was fun for her to see the eggs.
While I understand the reasoning behind it, it was a little difficult to explain the different denominators in each suit at first.  She wasn't sure why she had a card that had six eggs out of twelve, but the fraction was 1/2.  The upside to it, though, was that it provided me with a great visual to teach her why it was that way.  It was still difficult for her to grasp the addition of the fractions with different denominators, but I think once we have a piece of paper and write it out, she'll totally get it, thanks to these cards.
In addition to the educational benefits, Babydoll enjoyed beating the crap out of mom…  That large number of cards to the left?  Those are her hands…  I had like three.  It was a great game for us to play together; it was engaging, fun, and we both got a chance to exercise our brain a bit.
Other Products
I See Cards is the genius behind Fractazmic, and they've got a few other products as well:
What Did Others Think?
Other TOS Homeschool Review Crew members reviewed Fractazmic as well.  Visit the Crew blog to see what they thought!
True Confessions:  I was provided with a complimentary Fractazmic game in order to facilitate my review.  All opinions are my own.