What:  Amazing Science! – Volume 1
Cost:  $19.95 for the DVD or $17.99 for the immediately download
Recommended Ages:  Any, really, as long as there is parent supervision for the kids!
WHAT IS AMAZING SCIENCE! – VOLUME 1?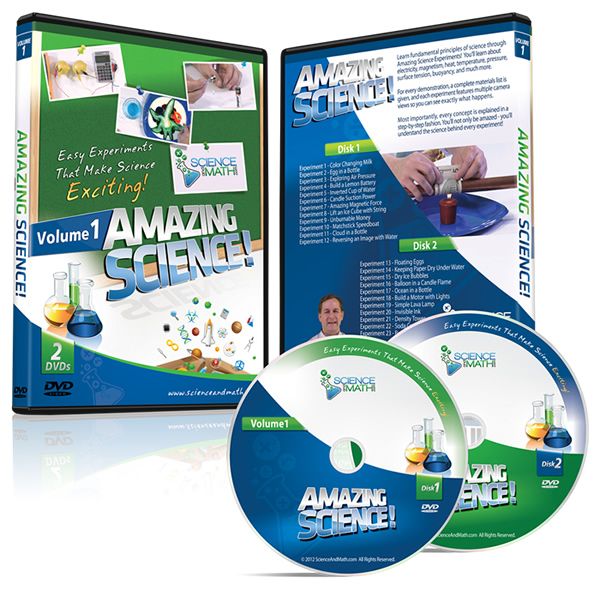 Amazing Science! – Volume 1 is a set of two DVDs full of 23 science experiments kids can do with items commonly found around the house.
Here is a list of the experiments completed on the DVDs:
A complete materials list is given for each experiment, multiple camera angles show what's happening during the experiments, and an easy-to-understand explanation of the science behind each experiment is given.
OUR THOUGHTS
We loved these DVDs, especially Babydoll!  She love science anyway, but she absolutely loves doing experiments.
It's been our experience that experiments in previous curriculum called for a ton of supplies that we didn't have on hand, so inevitably they didn't get done.
The materials used in these experiments really are things you have around already:  dish soap, cotton swabs, jars, pepper, plates, etc.
Babydoll had a few favorite experiments:
Build a Motor #2
Ocean in a Bottle
Reversing an Image with Water
She watched the entire set of DVDs in one day and paused every so often to go do an experiment.  That's how easy it was!  I was working that day, so she was on her own!  She was able to gather the materials herself and, with my supervision, complete the experiment.
She did four different experiments that day!
We highly recommend this DVD set:  it's easy to understand, fun, full of great science info, and has some great experiments!
WHAT OTHERS THOUGHT
See what other members of the Crew thought about Amazing Science! – Volume 1 here.
True Confessions:  I received a copy of these DVDs in exchange for my honest review.  All opinions are my own.